Methuselah was a long-time resident and mascot of Reptile Gardens. At 130 years old, the 600-pound giant Galapagos tortoise, passed away in July of 2011. One year later, on July 10, 2012, we unveiled a life-sized bronze replica of Methuselah in a brand new playground dedicated to Methuselah and all the kids who knew and loved him.
John Brockelsby, Public Relations Director, and CEO Joe Maierhauser had known Methuselah since they were young children when John's father and Joe's uncle, Earl Brockelsby, introduced the giant tortoise into his new home in South Dakota in 1954. Over the years, Methuselah became synonymous with Reptile Gardens and every year, on his birthday, he'd feast on his favorite food: watermelon. Methuselah had a unique personality. He was smart and always seemed to know how to get what he wanted, sometimes by sheer force!
Fun Facts About the Bronze Statue of Methuselah
The bronze statue is an exact casting of the real Methuselah.
Former Reptile Gardens staff member, Matt Seney, and Chris Cammack of Prairie Mountain Wildlife Studio posed Methuselah and made detailed molds of every part of his body.
It took Matt and Chris over 300 hours, over the course of several months, to complete the mold-making process. Due to the complexity of the process and their desire to make a perfect impression, they worked in subzero temperatures, and at one point, had to use a forklift, a concrete culvert, and numerous inner tubes to complete the molds.
Once the superbly detailed molds were completed they were delivered to Grant Standard and his crew at Black Hills Bronze foundry in Hill City, SD. They put their top people on making the finely detailed wax impressions of the original cast to then be cast in bronze using the lost wax technique.
It took approximately 25 separate molds to create the bronze statue of Methuselah. The pieces were then carefully welded together to create the statue you see today.
The finished bronze statue weighs 360 pounds.
Our friends at SECO Construction spent the winter of 2011/2012 creating the fun new Methuselah's Playground, home to the completed bronze. In the final weeks before the unveiling, SECO foreman James Graff worked closely with Black Hills Bronze to prepare the base on which the bronze would sit. He then moved the statue into place on the night of July 9.
Methuselah's playground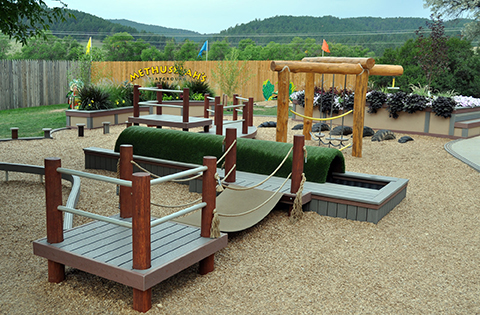 Methuselah's playground at Reptile Gardens, features a bronze cast of Methuselah as a tribute to his memory. July 10th, 2012, the day of the unveiling, was declared, "Go Slow For A Day," by Rapid City Mayor, Sam Kooiker, in honor of the beloved mascot.
We invite and welcome children to play on the bronze statue of the giant tortoise and have pictures taken, just as many kids and families have done since Methuselah first arrived at Reptile Gardens in 1954. From our records, we estimate that Methuselah touched the lives of over 12 million visitors in his 56 years at Reptile Gardens, and he may very well be one of the most photographed animals in the US!
Save