---
Voted the #1 attraction in South Dakota in the 2017 USA Today Reader's Poll

A panel of experts partnered with USA Today editors to pick the initial 20 nominees, and the top 10 winners were determined by popular vote on the USA Today website. Our staff is the main reason for our success and they are proud of this title. We're just so thankful and so grateful for all of our Guests and fans who voted for us!

Thank You!
---
Heritage Family Business of the Year Award 2017

The Brockelsby Family founded The Black Hills' Reptile Gardens® in 1937 and today, the popular Midwest tourist attraction is still under ownership of the same family. Today, Reptile Gardens hosts more species of reptiles than any other park or zoo in the world. Since its founding, the Garden has provided a great entertainment experience for literally millions of visitors.

Thank You!

The Prairie Family Business Association Heritage Family Business of the Year Award is presented each year to a family business that has been in business for 75 years or longer.

---
Reptile Gardens is a Great Service Star Business!
Reptile Gardens has been designated as a Great Service Star Business from 2003 -2017 and will continue to be one through 2018. Being designated a Great Service Star Business is an honor, and means helping the business community to set an example of excellent customer service, listening to our customer input, and recognizing our employees who make excellence part of their daily routine.
Thank You!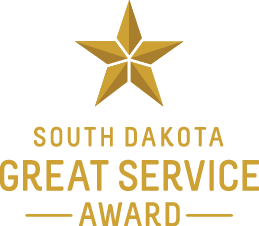 ---
Reptile Gardens Wins TripAdvisor's Certificate of Excellence Award
Reptile Gardens has continuously been awarded the Certificate of Excellence from TripAdvisor since 2012. This award is the result of a culmination of reviews from people around the world, and we are honored and humbled by so many people sharing their wonderful experience. From our family to yours: Thank You.
---
Small Business Administration's
South Dakota Family-Owned Business of the Year Award: 2010
The Brockelsby family was recently honored with the title of South Dakota Family-Owned Business of the Year. Presented by the South Dakota Small Business Administration District Office, the award is given to a local business based on success, employment opportunities, potential long-term growth and efforts to strengthen the community.
---
Tom Didier Excellence in Family Business Award: 2008

The Brockelsby Family, proud owners of Rapid City's world-renowned family attraction, Reptile Gardens, is the 2008 recipient of the Tom Didier Excellence in Family Business Award. It was established in 1994 to acknowledge the importance of family-owned businesses to the economy and the region. This award recognizes multi-generational family businesses with practices and policies that positively impact local business, as well as the neighboring community. This award is sponsored by the South Dakota Family Business Association from the University of South Dakota and it honors the many achievements and contributions of the Brockelsby family.
---
AAA GEM Designation Attraction
Reptile Gardens was the first attraction in South Dakota to receive the AAA GEM designation. Attractions and events with the GEM designation are deemed to be of exceptional interest and quality by AAA's professional evaluators.
Proclamations