Who Let the Crocodiles Out at Reptile Gardens?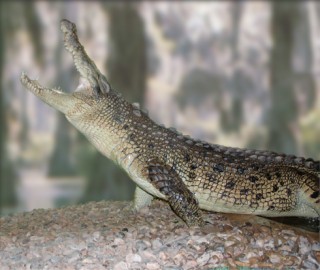 Rapid City, S.D. — The unofficial start of the tourist season has begun in the Black Hills! At Reptile Gardens, this is signified by the start of the daily Gator Shows.

They wait until late May to start these shows because crocodiles are cold blooded, or ectothermic, absorbing heat from their environment. The colder the environment, the slower and sleepier reptiles become. A gator show would not be very exciting in the cold South Dakota months! However, now that warmer temperatures are (hopefully) here to stay for the summer, the gators and their wranglers will be entertaining daily. In the warmer months the alligators and crocodiles can be quite characters, and dangerous too.

Reptiles Gardens CEO, Joe Maierhauser says that, "It is not uncommon for crocodiles to bask on the river banks, mouth wide open. That is not an aggressive posture, but a way to cool off. And in Africa, there are birds that climb into a croc's mouth and clean their teeth!"

Another interesting fact is that a particular group of Crocodiles in the wild regularly eat only once a year when the wildebeest migrate through their section of the river. Lucky for us, the gator wrestlers at Reptile Gardens feed our reptilian friends at every performance. You can see the feeding frenzy — and learn many more interesting facts on these creatures during a Gator Show.

So it seems that Reptile Gardens has indeed let the crocs out! A full schedule of shows can be found at /attractions/gator-arena.php. Try to catch all of these fun and educational shows on your next visit to the Black Hills reptile zoo, Reptile Gardens.


-30-


About Reptile Gardens

Reptile Gardens maintains one of the world's finest collections of reptiles. To learn more about Reptile Gardens' employment opportunities, hours, admission costs and season pass specials, call (605) 342-5873 or visit their website: http://reptilegardens.com.