Reptile Gardens Mourns the Loss of Maude Brockelsby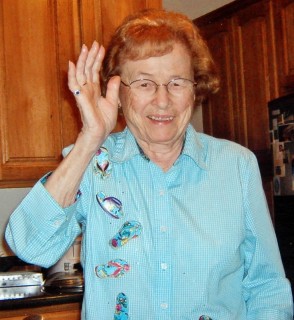 Maude Brockelsby, wife of Reptile Gardens founder Earl Brockelsby, died on 11 December 2011 at the age of 95.

Maude (Wagner) Brockelsby was born Nov. 2, 1916, in Lake Andes, S.D., the granddaughter of immigrants from Germany and Ireland. Her family lived in the Lake Andes area until 1929 when they moved to Wood, S.D. These were the dust-bowl days of the Great Depression, and times were hard — Maude often said she didn't like to think about the "old days"!

After graduating from Wood High School, Maude moved to Rapid City where she met an ambitious young entrepreneur named Earl Brockelsby who, in 1937, had the crazy idea of starting a tourist attraction showcasing reptiles. Maude and Earl were married in 1940.




Inthe early days of the Reptile Gardens, Maude made rockwork souvenirs, but she played an important part in the success of the business in another way. After Earl returned from World War II, he was spread thin by the several very different businesses he owned. It was Maude who encouraged him to devote his energies to the Reptile Gardens. Earl always gave her credit for helping him to focus his efforts on that business, which became one of the leading tourist attractions in the Midwest.




Maude was known, to all who knew her, for her kindness and generosity. She loved to take care of her large extended family. Her chocolate chip cookies were arguably the best ever. For many years, Maude served as the "Goodwill Ambassador" for the Reptile Gardens. Up until the end she was always interested in how things were going at the Reptile Gardens and never failed to ask how business was when any one of us stopped for a visit.