Good photos, Terrible Facts: Another Giant Snake Fail
Photo credit: Kevin Dooley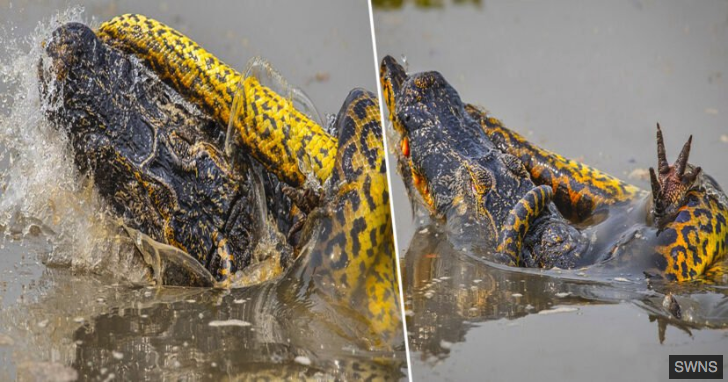 Who needs fish stories when you have giant snake stories? And boy do we see and hear a lot of giant snake stories. In keeping with our longstanding tradition, we offer here another giant snake story we felt compelled to debunk - before it gains any more traction than it already has. The original article in question can be found here.
The story tells of the photographer witnessing a 28-foot green anaconda crushing the life out of a caiman. It has some nice photos, and there's definitely an anaconda and a caiman tussling in them. But there are several problems, and they're big ones.

You know that age old question, if you could sit with one person in history and ask just one question, who would it be? For me, today, it would be Kevin Dooley - who the articles say is a wildlife photographer from Albuquerque, New Mexico. I would ask him simply, just how exactly did he determine that anaconda to be 28 feet long?

No matter, let's get right down to a healthy dose of reality: The snake in question is not what it is claimed to be - the very large species known as the green anaconda (Eunectes marinus). It is in fact a much smaller cousin, the yellow anaconda (Eunectes notaeus) - with a maximum length of a mere 12 feet. The caiman looks to be a Jacare caiman (Caiman jacare) with a maximum length of around 8 feet. We've seen a lot of caiman and anacondas over the past 82 years and so we feel safe in saying the yellow anaconda in these photos is probably no more than 6 feet long, the caiman appears to be around 4 to 5 feet in length. If there is a total predator/prey mass of more than 50 pounds, I would be beside myself.

Crocodilians are remarkably resilient even in the face of very traumatic injuries, such as having a limb ripped off, a broken jaw, or blinding. It is possible this caiman might have had some of its limbs dislocated but it would have easily survived this. Otherwise, at least in the photos, it looks no worse for the wear. And, one shot shows the anaconda's head in the caiman's mouth. The outcome of this event might have been far worse for the anaconda than the caiman. In all likelihood, the caiman was the predator and the anaconda was the prey. Reptiles are unable to sustain long periods of activity. The caiman looks like he bit off more than he could chew and had a lactic acid buildup in his blood from all the activity, had to give up, and the anaconda swam away. Mother Nature! Gotta love her!

Remember the old Gong Show? This article should have been 'gonged' before you even finished reading the headline!