Conservation is For the Birds — No, Really
Ever year, Reptile Gardens, located in Rapid City, South Dakota welcomes thousands of visitors. Some of the highlights of this unique attraction include the alligator, snake and bird shows. These shows are meant to educate, entertain, and inspire. One show in particular also helps to support biodiversity. By definition, biodiversity is the variety of life on earth including all plants, animals, fungi and microorganisms.

Queenie the cockatoo and Ruby the macaw have a small portion of the Bird Show dedicated to showing their money making — or shall we say money taking skills. Under the direction of Bird Department Curators Julia Kittelson and Becky Beaton, these talented birds accept donations from visitors and place money into a donation box. During the summer of 2013 this resulted in almost $20,000 in donations.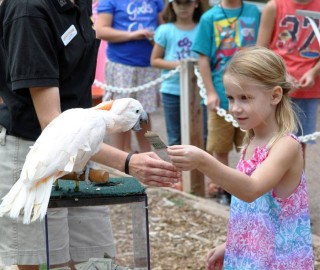 Where does the money go? On Sunday, September 22, the Black Hills Raptor Center held Art on the Wing. The Center rescues, and cares for injured or ill birds of prey from around the country. This fundraiser consisted of various artists creating original pieces in their medium of choice, using the Center's feathered friends as their muse. There was a People's Choice vote for one dollar per vote, and a live auction of the pieces. http://www.blackhillsraptorcenter.org/

Reptile Gardens' Curator of Birds, Julia, presented the Black Hills Raptor Center with a check for $2,700 during this event. These funds were also collected by the birds, Queenie and Ruby, during the summer daily bird shows.

Rapid City native Wally Van Sickle began a conservation effort in 1991 named Idea Wild. The purpose of the organization is to minimize the loss of biodiversity by empowering people who work on the front lines of conservation efforts in developing countries. This non-profit organization has supported over 2300 projects in 70 developing countries since its inception over 22 years ago. More information and detailed stories of their efforts can be found at www.ideawild.org.

On August 17, Bird Dept Curators Julia Kittelson and Becky Beaton presented $17,404 to Wally VanSickle during the event Concert for Conservation, which featured Kory and the Fireflies, held in Main Street Square, Rapid City.

Reptile Gardens is dedicated to preserving wildlife and their habitats and is proud to support many wildlife and conservation organizations.