Crocodilians
This family of reptiles includes Alligators, Crocodiles, Caimans, and Gharial. Crocodilians are large animals with powerful jaws, heavy elongated tails, short legs, and thick plated skin. They remain in the water much of the time and are capable of opening their mouths while submerged, but cannot swallow underwater without taking in large amounts of water and potentially drowning.

Alligators
There are just two species of Alligators. One is found in the United States and the other in China.
Physique
They have U-shaped heads with blunt snouts and only the upper teeth are visible when their mouth is closed. Alligators' jaws are meant to crush bone. Most of the muscles in an alligator's jaw are intended for biting and gripping prey - the muscles that close the jaws are exceptionally powerful, however the muscles for opening their jaws are relatively weak.
Habitat
Alligators tend to live in freshwater environments such as ponds, marshes, wetlands, rivers, lakes, and swamps, as well as brackish environments.
Hunting Habits
Although they mainly prey on smaller animals that they can kill and eat with a single bite, alligators may kill larger prey by grabbing it and dragging it in the water and then spinning or convulsing wildly until bite-size pieces are torn off. This is referred to as the "death roll".
Conservation status
Due to habitat loss, pollution, and overhunting, Chinese Alligators are considered to be critically endangered with few breeding populations left in the wild. American Alligators are still considered threatened, but have recovered nicely over the past 40 years, enough to allow a hunting season in some states.
Crocodiles
Crocodiles live throughout the tropics in Africa, Asia, the Americas and Australia.
Physique
Crocodiles generally have a V-shaped head with a longer, narrower snout, and eyes placed farther forward on their head. Their jaws are used to tear and grip prey rather than crush. When closed, a crocodile's mouth will reveal both upper and lower teeth, as their fourth tooth sticks out from the lower jaw.
Habitat
They tend to live in quiet, warm fresh, salt or brackish water.
Hunting Habits
They mostly feed on vertebrates like fish, reptiles, and mammals. They have sharp teeth for gripping and holding onto flesh, but cannot open their mouth if it is held closed since the jaws are opened by a very weak set of muscles. They have one of the strongest bite of any animal, possessing extremely powerful jaws capable of biting down with immense force – with several thousand pounds of bite force.
Conservation status
Due to hide hunting, pollution, or loss of habitat, all crocodile species are considered to be threatened or endangered.
Caimans
Caimans are native to tropical regions of Central and South America.
Physique
Caimans closely resemble alligators in appearance but are generally smaller, averaging about four to six feet (1.2 to 1.8m) in length, although one species of Caiman can grow to lengths of more than 15 feet. Their bodies are covered with bony plates and are blackish or brownish with various lighter markings.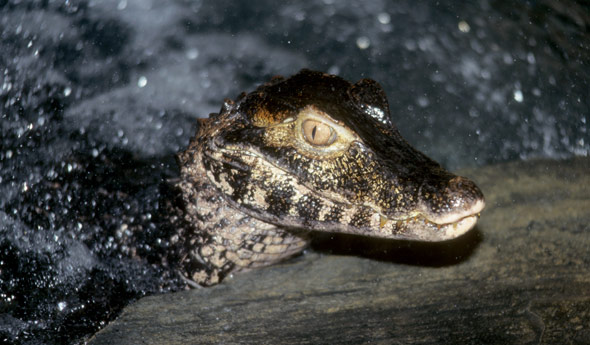 Habitat
They live along rivers, streams, and lakes. Spectacled caimans are also found in southern Florida, although they are not native to this area - they have been released by pet owners or have escaped from dealers.
Hunting Habits
They hunt fish, birds, turtles, reptiles, and mammals. They don't tear their prey, they swallow it whole.
Conservation status
Most of the caiman species are endangered. The main reasons for the decline in population are habitat destruction and hunting for their skin and meat, as well as the collection of eggs. Conservation efforts are being made to save several of the most endangered species.
Gharials
Gharials are native to the rivers of the northern Indian subcontinent.
Photo by: Jonathan Zander, under the CC-by-SA 2.5
Photo by: Soham Banerjee
Photo by: cliff1066
Photo by: Harsha K R
Physique
Elongated, narrow snout lined with many interlocking teeth. It is one of the largest of all crocodilian species. The leg musculature of the gharial does not enable it to raise its body off the ground so it tends to "belly slide" when on land; however, when in water, the gharial is the most nimble and quick of all the crocodilians in the world.
Habitat
They prefer the calmer areas of deep, fast-moving rivers.
Hunting Habits
Young gharials eat insects, larvae, fish and small frogs. Mature adults feed almost solely on fish, although some individuals have been known to scavenge dead animals.
Conservation status
Gharials are critically endangered and are considered to be one of the most endangered crocodilians in the world. Once found in river systems of Pakistan, northern India, Bangladesh, Myanmar, Bhutan, and Nepal, today gharials are found in only a few small areas of India and Nepal. This drastic decline in population is due to hunting for skins and use in medicine, habitat destruction, and illegal fishing.