Jungle Outpost Gallery
Featuring the tribal arts and crafts of native cultures from around the world - Huichol beadwork, tagua nut carvings, dragons, Tibetan singing bowls, and tribal jewelry – we are especially noted for our collection of New Guinea art (we house the largest selection of PNG tribal art for sale in North America).
Collecting tribal art from New Guinea is a family tradition, dating back to the 1960's when Reptile Gardens' globe-trotting founder, Earl Brockelsby first visited the island. Today, Earl's nephew, Joe Maierhauser continues to uphold this family legacy by collecting the tribal art of this region.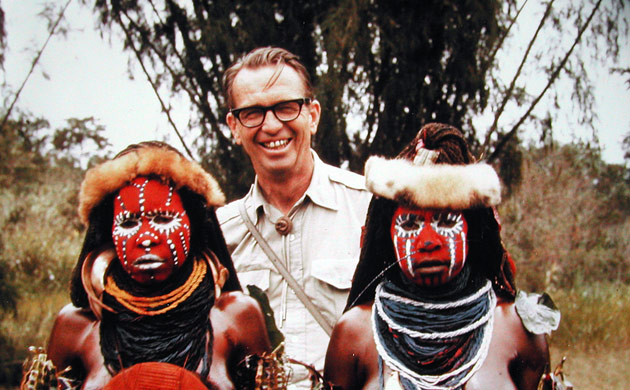 Earl in Papual New Guinea
The Jungle Outpost Gallery maintains an inventory of thousands of pieces of tribal art, gathered primarily from the Sepik River, Highlands, and Papuan Gulf of Papua New Guinea.
Gallery Hours
Open seven days a week from 8:00am to 6:00pm, or you may shop online at www.jungleoutpost.com. You do not need to pay zoo admission to browse the variety of tribal art.