Awards
Reptile Gardens has been Designated as a Great Service Star Business for 2016!
Once again, Reptile Gardens has been designated as a Great Service Star Business and will continue to be one through 2016. Being designated a Great Service Star Business is an honor, and we're extremely happy to continue to have the designation. We pride ourselves in providing our Guests with a memorable, fun, and educational experience. Being designated as a Great Service Star Business means helping the business community to set an example of excellent customer service, listening to our customer input, and recognizing our employees who make excellence part of their daily routine.
Thank You!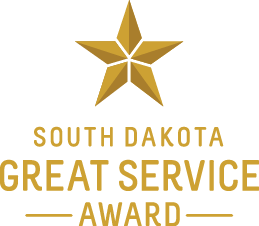 The Great Service Star Program is designed to identify and recognize businesses that complete a set of criteria for hospitality training of their employees, offer a comment mechanism for visitors, and recognize employees for great service. Our staff receives intense and ongoing hospitality training, which isn't something most zoos, or many other businesses, do. We also love to hear from our customers and take your feedback seriously. Finally, we recognize how important our employees are to your experience, which is why we recognize and reward all of the hard work that goes into make the World's Largest Reptile Zoo. If you're visiting the beautiful Black Hills, or a year-round resident, we welcome you and your family to come experience an adventure you'll never forget!
---
Reptile Gardens Wins TripAdvisor's 2015 Certificate of Excellence Award
Reptile Gardens has officially been awarded the 2015 Certificate of Excellence from TripAdvisor for the fourth consecutive year. We're extremely happy to have been awarded this certificate for the last four years. Our staff has a tremendous amount of pride in ensuring that our guests have an experience that is truly memorable. Every day we strive create those memorable experiences by welcoming, engaging, entertaining, and educating guests of every age. This award is the result of a culmination of reviews from people around the world, and we are honored and humbled by so many people sharing their wonderful experience.
From our family to yours: Thank You.
In addition to receiving TripAdvisor's Certificate of Excellence, Reptile Gardens has also received acclaim from the Guinness Book of World Records as being the World's Largest Reptile Zoo. However, we're not just about reptiles. We've worked hard to create an exotic, relaxing, and beautiful botanical garden that features very happy and very healthy tropical plants in a very non-tropical South Dakota. Take some time to stroll through the gardens and Tortuga Falls to visit Darwin, the Australian Kookaburra. Whether you're visiting the Black Hills or are a local resident, Reptile Gardens welcomes everyone to an adventure that the whole family can enjoy.
---
Trip Advisor Certificate of Excellence for the year 2014
For the third consecutive year, Reptile Gardens has been given the award of Certificate of Excellence from Trip Advisor. It is a true reflection of the continued commitment of our staff to our Guests' satisfaction, enjoyment, entertainment, and education. At Reptile Gardens, the Guest experience is the primary focus, and we feel honored to have once again earned this award. We look forward to another year of family fun in the Black Hills.
Reptile Gardens has received additional world acclaim in the Guinness Book of World Records as being the World's Largest Reptile Zoo. There are more species and subspecies of reptiles here than any other zoo or park in the world. We welcome the opportunity to continue to grow, and to encourage visitors from around the world to see what we are all about!
---
Reptile Gardens Named the Top Family Attraction in South Dakota
Rapid City, SD –Reptile Gardens has been named the top family attraction in South Dakota by FlipKey.com, the vacation rental company of leading travel site TripAdvisor. The results were obtained through industry research and traveler feedback, and they have found the 50 most loved and most talked about family attractions in each state across the country. Museums, zoos, parks, roadside attractions, sightseeing spots, and many, many more were reviewed for the list, which was ultimately narrowed down to one family attraction per state.
---
Trip Advisor Certificate of Excellence for the year 2013
---
Trip Advisor Certificate of Excellence for the year 2012
Reptile Gardens is honored to announce we have been awarded TripAdvisor's Certificate of Excellence. TripAdvisor is the world's largest travel site and provides trusted advice from travelers across the world. We are thrilled to have earned such a phenomenal award as only ten percent of accommodations listed on TripAdvisor will receive this award on a yearly basis. This tribute honors excellence in hospitality, and that's exactly what we aim to do, by engaging visitors at Reptile Gardens and have them leaving with a memorable, enjoyable, and educational experience. Our passion for what we do is ignited within our visitors, enabling them to leave with a better sense of what our world renowned team of specialists and conservationists set out to accomplish every day.
---
Small Business Administration's
South Dakota Family-Owned Business of the Year Award: 2010
The Brockelsby family was recently honored with the title of South Dakota Family-Owned Business of the Year. Presented by the South Dakota Small Business Administration District Office, the award is given to a local business based on success, employment opportunities, potential long-term growth and efforts to strengthen the community.
---
Excellence in Family Business 2009
http://www.fambus.org/
Reptile Gardens was recently honored with the Excellence in Family Business award which recognizes the successes of exemplary family businesses from their rich heritage and strong values to their community involvement. Annually presented by the Prairie Family Business Association, the regional award is given to families whose businesses have successfully transitioned from one generation to the next.
---
Tom Didier Excellence in Family Business Award: 2008
http://www.fambus.org/
The Brockelsby Family, proud owners of Rapid City's world-renowned family attraction, Reptile Gardens, is the 2008 recipient of the Tom Didier Excellence in Family Business Award.
The Tom Didier Excellence in Family Business Award was established in 1994, to acknowledge the importance of family-owned businesses to the economy and the region. This award recognizes multi-generational family businesses with practices and policies that positively impact local business, as well as the neighboring community.
This award is sponsored by the South Dakota Family Business Association from the University of South Dakota and it honors the many achievements and contributions of the Brockelsby family.
---
South Dakota Governor's Great Service Award: 2003-2009
"Outstanding Commitment to Hospitality and Education in the Visitor Industry"
www.sdvisit.com/programs/service/greatservice.asp
For the past seven years, Reptile Gardens has been recognized by the South Dakota Office of Tourism for its superior customer service efforts. Since 2003, the Black Hills family attraction has received the Great Service Star designation – an honor which recognizes businesses and organizations which are dedicated to the success of the South Dakota visitor industry, and exemplify it through outstanding service and high levels of customer satisfaction.
To qualify for The Great Service Award, businesses must complete both onsite and offsite hospitality training, workshops, employee recognition, and utilize visitor comments to improve performance.
---
USA Today Top 10 Roadside Attractions in the Country: 2001
USA Today routinely develops a "Top 10" list for a wide range of subjects. In 2001, Reptile Gardens made the daily newspaper's "Top 10 places in America to stop a car and take a look."
---
Midwest Travel Writer's Association GEMmy Award: 1995
http://www.mtwa.org/
The Midwest Travel Writer's Association is the oldest association of professional travel writers in the country. The group of travel writers and publicity experts cover topics throughout the 13 Midwestern states as well as destinations around the world. Each year the professional association gives the GEMmy Award to an attraction, site, event, restaurant, accommodation or excursion that is deemed to provide an exceptional travel experience. Destinations from all over the globe have been presented with the GEMmy Award, with Reptile Gardens receiving the honor in 1995. They are the only attraction in South Dakota to receive this honor.
---
AAA GEM Designation Attraction
Reptile Gardens was the first attraction in South Dakota to receive the AAA GEM designation. Attractions and events with the GEM designation are deemed to be of exceptional interest and quality by AAA's professional evaluators.